The special line-up includes 5 movie premieres, 3 iconic events and unexpected twists and turns in all the shows
Chennai, November 2nd, 2021:  Colors Tamil, the fastest-growing GEC of Tamil Nadu, is all set to celebrate the festival of lights with an exciting line-up of shows, supported by special partners Gold Winner Eldia Pure Coconut, Thangamayil Jewellery-Ramraj Pattu Vettigal, Pattu Shirtugal, and Iswarya Fertility Centre, and associate sponsor Bharath Electronics & Appliances.
Embarking on this auspicious Diwali journey, Colors Tamil's popular fiction shows are all decked up with intriguing plotlines for audiences to enjoy. The action begins with a thrilling marriage sequence in Amman 2. Who will Eswar marry? Shakti or Durga? Don't miss it on November 4, 2021 at 6 PM.
Adding to the suspense, the shocking truth about Abhi and Ashok will be revealed in Abhi Tailor at 9 p.m. Deepa Shankar will make a special cameo appearance to usher in the Diwali season. Similarly, at 10 p.m., Sillunu Oru Kaadhal will keep you on the edge of your seat with an action-packed episode featuring Karuthuamma Rajashree's delightful cameo.
That isn't all. The channel's acclaimed shows, Enga Veetu Meenakshi at 7 PM and Idhayathai Thirudathey 2 at 8 PM, will take viewers on an emotional roller coaster with their storylines.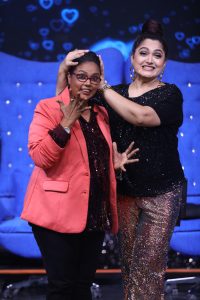 On the non-fiction front, Colors Tamil's flagship dance reality show Vim Presents Dance vs Dance Season 2, Powered by Nippon Paint with Oreo as Special Partners, will put on engrossing performances based on Kollywood stars this weekend at 7:30 PM. Starting November 1st at 1:30 PM, the channel will also show Uththaravu Maharaja, Meendum Oru Mariyadhai, Chasing, Magamuni, and Devadas Brothers. They will be screened on each of the Diwali days.
Furthermore, the channel will also fill your day with harmony, kickstarting with Voice of Legends featuring SP Balasubrahmaniam and Yesudas at 6:30 AM, followed by Ilayaraaja 75; paying a tribute to Isaignani Ilayaraja at 9:30 AM and Nenje Ezhu featuring the Mozart of Madras, AR Rahman at 12:30 PM on November 4th.
Commenting on the occasion, Rajaraman S, Business Head, Colors Tamil, said, "This ColorKattum Diwali, we are elated to be presenting an exciting line-up of shows with unlimited entertainment and refreshing content. We are also bringing in some of the most cherished household names on our channel. We are certain that this Diwali is going to be a memorable watching experience for viewers in Tamil Nadu and other parts of the world."
During this festival of lights, take a seat with your family and fill your homes with happiness by tuning in to Colors Tamil. The channel is available on all leading cable networks and on all DTH platforms – Sun Direct (CH NO 128), Tata Sky (CHN NO 1555), Airtel (CHN NO 763), Dish TV (CHN NO 1808), and Videocon D2H (CHN NO 553).
About  Colors Tamil:
Launched in February 2018, COLORS Tamil is the fastest growing general entertainment channel from the stable of Viacom18 that thrives to entertain Tamil-speaking viewers around the globe through distinctive and powerful stories that inspire and celebrate women and their families. With the brand-new 'Ini Dinam Dinam ColorKattum' campaign, the channel is keen to break stereotypes, showcasing progressive themes through high-impact, contemporary shows. Some of our flagship shows are Velunachi, Arya's Enga VeetuMaapilai, Dance Vs Dance, COLORS Comedy Nights, Singing Stars, Oviya, Vandhal Sridevi, Perazhagi, Thirumanam, Thari, Malar, Kalla Petti, Kodeeswari, Uyire, Amman, IdhayathaiThirudathey, Mangalya Sandhosham & Colors Kitchen amongst others.
About Viacom18:  Viacom18 Media Pvt. Ltd. is one of India's fastest-growing entertainment networks and a house of iconic brands that offers multi-platform, multi-generational and multicultural brand experiences. A joint venture of Network18, which owns 51%, and Viacom CBS, with a 49% stake, Viacom18 defines entertainment in India by touching the lives of people through its properties on-air, online, on-ground, in-shop, and through cinema.
For media queries, please contact: